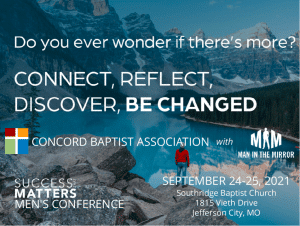 MEN, are you feeling tired, off balance, under pressure, isolated?
Do you feel that something just isn't right – that there must be more to life than this?
We want to show you there is!
The Success That Matters event will:
provide you with a clear biblical direction in order to find a deeper level of meaning and purpose in life.
help you assess priorities and explore true significance, based on sound biblical teaching
Challenge you to examine what REALLY matters in life.
Cost: $20 (until Monday, September 13th); $25 (September 14th-24th)
If you are interested in serving on the event team, please contact:
Ben Schroer (573) 338-1830
Ralph Lemongelli (573) 353-6221
CBA Office: (573) 635-5419