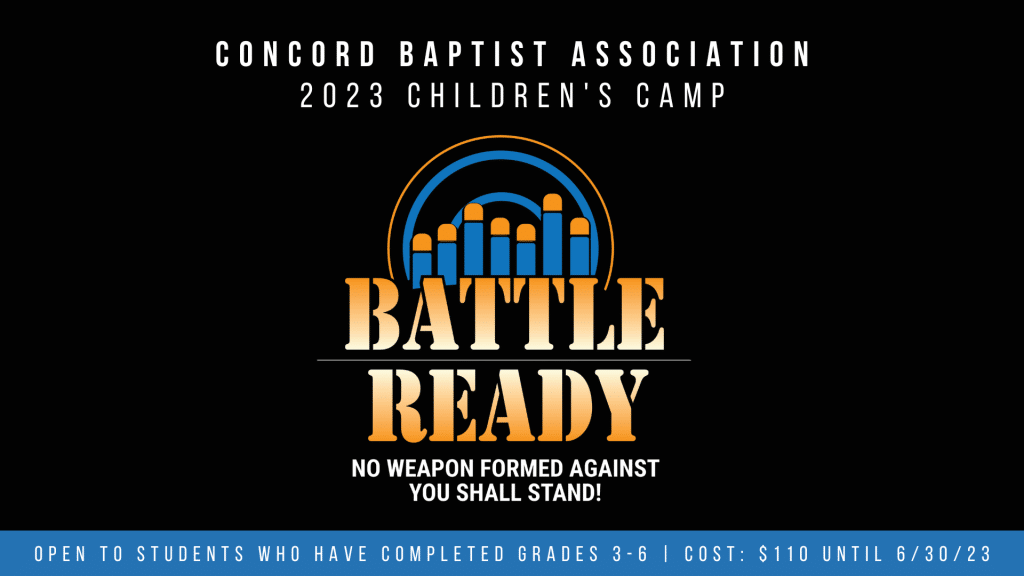 It's almost time for camp!
Registration closes at 4:00 pm today, June 30, so our camp staff are hard at work making all the final preparations for a great week. If you would like to register your child(ren) for camp, please text Kari Sullivan at (573) 291-1313 by 4:00 pm today, June 30th. Registrations will not be accepted after this time. All boy spots have been filled. Churches: we will reach out next week with the final lists and payment information.
As we get ready for camp, we are praying for the boys, girls, and volunteers to become Battle Ready in our hearts, mind, and soul so that no weapon used against us can stand.
Getting Ready for Camp?
Pack your equipment:
Medical and Liability Release Forms (if not already submitted)
Medications in original containers in a labeled ziplock
twin sheet, pillow, and blanket/sleeping bag
two towels – one for showering and one for swimming
5 T-shirts and shorts appropriate for church camp
socks and underclothes
PJs that are appropriate for anyone to see
swimsuit
tennis shoes and flipflops/slides for the locker room and pool
toiletries (soap and shampoo provided): washcloth, deodorant, comb/brush/hair ties, toothbrush, toothpaste, sunscreen, and very little else
Bible, notebook, pen
flashlight
water bottle (label with your name and check for leaks!)
What to leave at home:
money – there is nothing for sale!
phones – we will take lots of pictures and share them in the slideshow after camp
What else do you need to know?
Camp Location
Pulaski Baptist Association Campground
26224 Silver Lane
Waynesville, MO
Drop-off and Pick-up
Drop-off for camp begins on Sunday, July 16th from 3:00-4:30 pm. Be sure to bring your child's medical and liability release forms to registration (if you didn't submit them online)! Medications must be brought in original containers in a labeled ziplock. We will do lice checks and take temperatures before kids are admitted to camp.
Medical Forms  Liability/Photo Release Forms
Pick-up for camp begins Thursday, July 20th from 10:00-11:00 am. Please be on time for pickup!
Orders
We are all here to have fun. We love camp!
Treat everyone and everything as if they belong to God because they do!
Be where you are supposed to be.
Participate in activities.
If it is not yours, leave it alone.
Any language, drawings, or actions that are inappropriate will be handled through discipline in the form of a reminder of the rules, missing an activity, switching groups, parent contact, or removal from camp.
The Camp Director, Camp Pastor, and Director of Missions have the final say on discipline issues as a team.
Interested in Serving at Camp?
We are still looking for 2 additional adult males to serve as cabin leaders. This will allow us to spread the boys out more appropriately. The safety of our kids is important, so the ability to have a clear background check and a positive Pastor Recommendation are essential qualities. The association will be covering Leader costs this year (except the costs for any children you bring). If you would like to apply, please apply at this link: