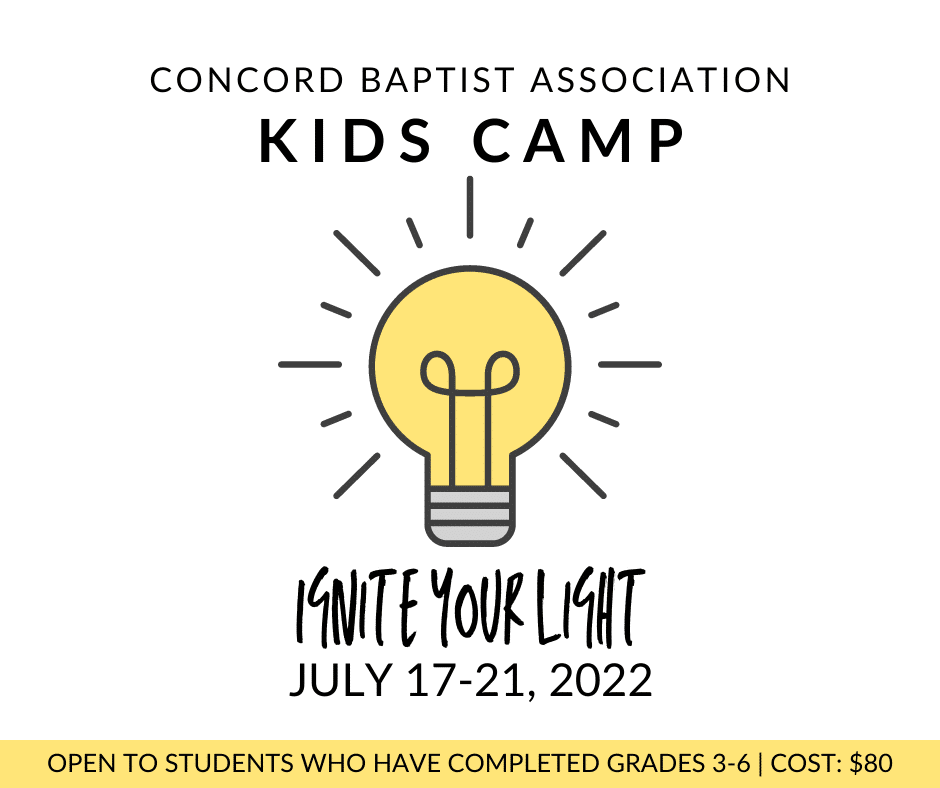 "In the same way, let your light shine before others. so that they may see your good works and give glory to your father who is in Heaven." (Matthew 5:16)
The 2022 Concord Baptist Association Kids Camp will be held at the Pulaski County Baptist Association Campground in Waynesville, MO on July 17-21. This year, our theme is "Ignite Your Light". We will be studying the Scriptures about light – God's light, Jesus' light, and our light. We will experience light in many different forms through games, science, art, worship, and more!
Why camp? Going away to camp gives your a child a break from the everyday! No technology, no chores, no TV – just a place with space to run outdoors, try new activities, meet new friends, and focus on God.
Registration:
Registration is open until July 1st, at the link below. The cost of camp is $80 (check your church for scholarships). We will be able to accept payments by debit/credit (processed by Eventbrite) or check/cash. Note: don't forget to complete the medical form and bring it with you to camp!
Other Important Instructions:
For Churches:
If your church plans to offer scholarships on a need basis, or are planning to cover part of/all of your students' registration fees, please contact Alicia at the Association Office (phone: 573-556-0379, email: office@cbamo.org) to make arrangements and acquire a promo code to give to your parents, if applicable.
If you are sending a check to cover the group of children attending from your church, please include a list of the names that your check covers so it can be properly credited. Checks may be mailed to: Concord Baptist Association, P.O. Box 419, Jefferson City, MO 65102
For Parents:
If your church is covering a portion of the cost of your child/children's registration fee, you will need to acquire a promo code from your church to use at checkout. If your church will be sending a check to cover the group of children going from your church, or if you prefer to pay by check/cash, there is an option to select "Pay by Check" at checkout. Once the check has been received by the Associational Office, it will be credited to the children that it was designated for.
If you are sending a personal check to cover the registration fee for your child/children, please include a list of the names your check covers so it can be properly credited. Checks may be mailed to: Concord Baptist Association, P.O. Box 419, Jefferson City, MO 65102
Check-In/Pick-Up:
Students may be checked in Sunday afternoon between 3-4pm. Please bring the health form and medications (in original containers in a labeled ziplock). We will do lice checks and take temperatures before kids are admitted to camp. On Thursday, please do not pick up your child prior to 10 am. We will be taking group pictures before they leave.
About the Facilities:
The girls will be sleeping in the dorm and the boys in the cabins. All beds are bunk beds are bunk beds and there is AC in all buildings.
We will have separate swim times for boys and girls at a large indoor pool, located on site. A lifeguard will be on duty.
There is a low to the ground challenge course, gym, hiking trail and field for games and field for games and activities throughout the week.
Meals:
We will be preparing meals on-site. If your child has allergies or a special diet, please make that clear well in advance in case we have questions for you.
Rules:
Below, we are listing our expectations for campers, which will allow us all to have a great week! Please be sure that your child understands what is expected of them.
Treat everyone and everything as if they belong to God, because they do!
Be where you are supposed to be.
Participate in activities.
If it is not yours, leave it alone.
Any language, drawings, or actions that are inappropriate will be handled through discipline in the form of a reminder of the rules, missing an activity, switching groups, parent contact or removal from camp. The Camp Director, Camp Pastor and Director of Missions have final say on discipline issues as a team.
Packing List:
Twin sheet, blanket/sleeping bag and pillow
Two towels – one for showering and one for swimming
5 tee shirts and shorts appropriate for church camp, socks, underclothes, pajamas appropriate for anyone to see, swimsuit
One solid colored shirt they can put glow paint on (doesn't have to be new). Please put their name on the tag!
Tennis shoes and flip-flops/slides for the locker room and pool.
Toiletries – I will provide soap and shampoo for every shower/sink. Please bring a washcloth, deodorant, comb/brush/hair ties, toothbrush/toothpaste, sunscreen and very little else.
Bible, notebook, pen, flashlight
Absolutely no money should be brought by campers. There is nothing for sale. We will provide their afternoon/evening snacks.
No phones are to be brought. If they want a picture with a friend, they can ask a leader. We will take lots of pictures and share them in a slideshow after camp.
PLEASE write your child's name on things. We had a giant lost and found after camp last year.
Adults – Missing out?
Adults – maybe you feel a little left out. Don't worry! We have place at camp for you, too! Kitchen helpers, activity leaders and group leaders are ESSENTIAL to the success of camp and enjoy their time away from the every day, too! Contact Kari Sullivan, Camp Director (email: kari@memorialchurch.net or by phone: 573-291-1313) to find out more.