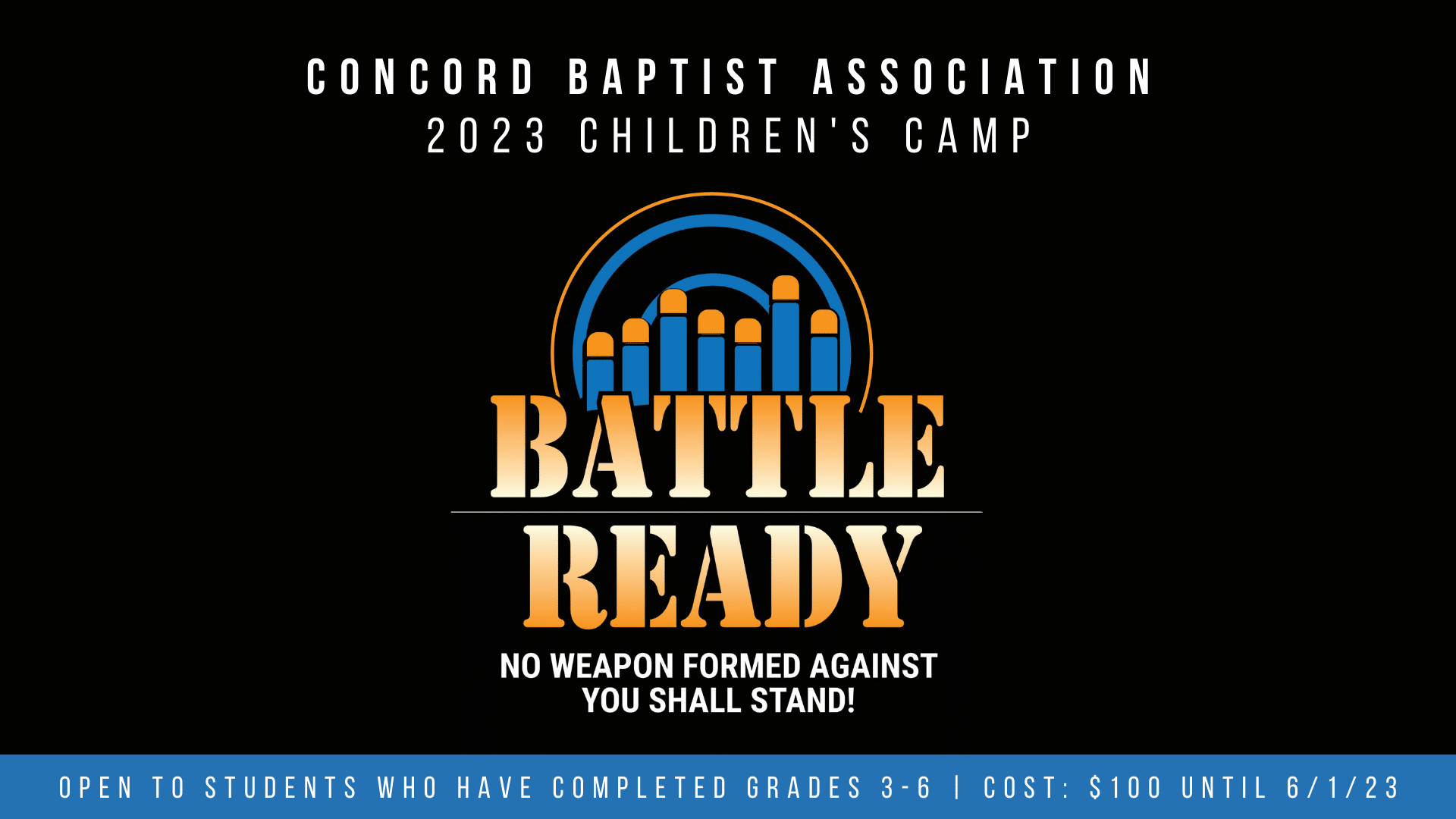 We are excited to announce that the 2023 CBA Children's Camp will be held July 16-23, 2023 at Pulaski Baptist Association Campground (Waynesville, MO). We are praying for the boys, girls, and volunteers to become Battle Ready in our heart, mind, and soul so that no weapon used against us can stand. Rotations will include Chapel, War Room (Prayer), Special Ops (Missions), Armory (Science and Art), Training (Recreation), Archery, Swimming, Mess Hall, and some special group activities!
Camp is open to children who have completed 3rd-6th grades.
Early Bird Registration: $100/camper (before June 1)
Late Registration: $110/camper (until June 30)
Parents
We received feedback from several churches that they would like to be more in the loop as to which children will be attending camp from their congregation. So this year, we are changing the registration process slightly to allow us to work more closely with your church.
You will complete the registration forms online (please call the office if you need assistance), but you will remit the payment to your church. They will send us one check once registration has closed on June 30th. If you need financial assistance for camp, please reach out to your point of contact to inquire about the possibility of a full/partial scholarship for your child(ren).
You will also be asked to provide the name and email of the person serving as the point of contact for camp at your church. If you are unsure of who this is for your church, please reach out to your secretary or Children's Ministry leader prior to registering, to ensure all communication regarding camp is sent to the correct individual.
If your child wishes to bring a friend who does not attend a CBA church, please invite them early so they can meet the registration deadlines!
Churches
There are a few key ways that you can help this year's camp to be a success:
Save and promote the date! Please impress upon parents the importance of registering early – we will need to place our shirt order quickly after the June 30 deadline, and changes to the order cannot be made after we place it.
Determine who will be the main point of contact at your church for camp! This could be your secretary or children's ministry leader … whoever you want to put in charge of knowing who has registered + paid for the camp, coordinating transportation, scholarships, etc. Please communicate this with your parents as you promote the camp so they can provide that information on their registration. We will be following up with this individual via email when registration closes to make sure we aren't missing anyone.
Financially. Due to the rising costs of supplies, registration will be increasing to $100 this year, so you may consider offering partial or full scholarships to families in need. We are also seeking churches/individuals who would like to sponsor a meal for $250.
Recruit Leaders! We are looking for some awesome adults to fill the following roles: Squad Leaders (Team Leaders), Drill Sergeants (Teachers), Call to Arms (Worship), Mess Hall (Cooks), Navy Commander (Lifeguard), Strategists (Planners), Recruiters (Childcare for Leaders), and Squad Leaders in training (10th-12th graders). The safety of our kids is important, so background checks, applications, Pastor Recommendations, meeting attendance, and availability are essential qualities. The association will be covering Leader costs this year (except the costs for any children you bring).