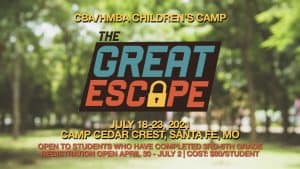 Join the Concord Baptist Association and the Heart of Missouri Baptist Association for a joint children's camp, to be held from July 18th-23rd at Camp Cedar Crest in Santa Fe, MO! This camp is open to students who have completed 3rd-6th grades, and cost is $80/student.
Registration will be live until July 2nd, or until the camp is full. There are 150 spots available, and this is a joint camp, so don't wait! Once those spots fill, we will have a waiting list. Closer to camp, you will receive a letter with any further instructions and a packing list.
If you need financial assistance, please check with your church.
If you have any questions, please call Kari Sullivan at (573) 291-1313.